The very first grown-to-order, zero-waste microgreen subscription containers went out yesterday! Is it silly that I'm so happy about this?!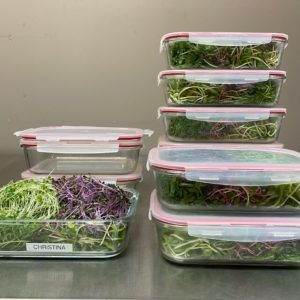 It's just that this has been an idea on my mind for what feels like forever but it always got a little complicated, 'til now. One sure thing I've learned over the years of doing this small home-based food and flower growing market-garden business is that if things get too complicated, the whole shebang will be in danger of falling apart. Complexity quickly becomes unsustainable, especially for a one-woman show like mine and eventual burnout is inevitable. So I now know that I have to take extra care with how and when and why I do things.
I'm stoked that so many folks in my special little island community are interested in microgreens. They love incorporating them into their daily meals and are earnest about supporting local people who're producing good food. The growth of this enthusiastic vibe has been fast and furious these last 3-5 years and it's inspiring! It's one big reason why the plastic-free subscription idea is working simply and smoothly right now.
I have so much appreciation for all the early adopting subscribers this month and for everyone who'll jump on the bandwagon in the weeks to come too. It feels like we might be co-creating something good! Obviously, I couldn't make this work without these folks who're willing to make the extra effort to take part.
This month, we'll avoid using almost 100 plastic clamshell packages and folks who've signed up will be taking home the freshest, just-harvested nutritious and tasty greens possible! If you live on Mayne Island and you'd like more info about the microgreen lover's zero-waste weekly subscription program check out this post: http://www.christinasgarden.com/2023/01/microgreen-subscription-program/