Folks ask me about how to use microgreens all the time. I don't have many unique ideas but one thing's for sure, they're not just a garnish in our house!
I think of microgreens as the easiest, most nutritious fast food on the planet. I know of people who snack on sunflower shoots like popcorn.
But when it comes to mealtime, simplicity is key for me. I think the best way to enjoy microgreens  is to simply include them with every meal, every day, especially in the winter time, but all year-round too. They go with just about everything without a need to get fancy or rely on recipes. And they sure do gourmet-up a meal just by being there!
One of my faves for dinner is a colourful veggie buddha bowl. So many variations you can put together and all are better with a couple big handfuls of microgreens. And a seafood meal now seems incomplete without some micros. Baked salmon or halibut with some rice and a big microgreen salad is a special meal that's fast and easy too.
Pretty much every variety of microgreen is good in a sandwich or placed on top, openfaced. The veggie sandwich from Farm Gate Store's Deli counter is a grilled panini sandwich with hummus and grilled eggplant, pickled onions, cucumber, tomato, avocado and CG's Shoot Salad Mix (a mix of pea, sunflower and purple radish micros). It's scrumptious! I often look forward to this late lunch treat after I make my Friday delivery to Farm Gate's shoot shelf.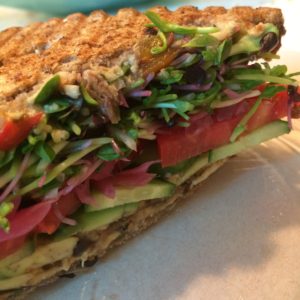 When preparing a meal, I've noticed I often end up using the microgreen with it's mature veggie version. This summer-time salad started out as pea shoots paired with purple sugar snap peas from Hardscrabble Farm.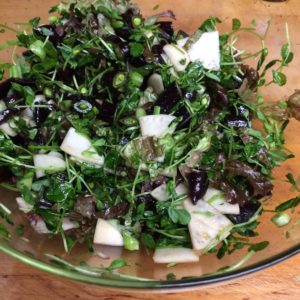 I also added some of their tender and sweet white hakurei salad turnips, lettuce and green onions. Next time I make this I need to put in some red cabbage micros too! Simply delicious Mayne Island grown food.
In a morning smoothie or juiced (the customer fave for this is quickly becoming broccoli micros). For breakfast with an omelette or any egg dish, all varieties of microgreens work.
This is a photo a friend sent me of her broccoli micros going into the blender. What a healthy smoothie! One of THE funnest things about growing microgreens for my community is receiving all the photos of how folks are using them. I love it. Thank you, you inspire me!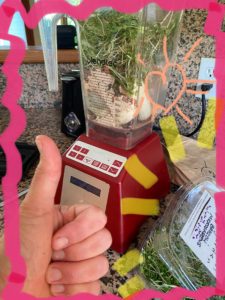 Microgreens even pair beautifully with fruit! I've made a delicious salad with pea shoots, sunflower shoots and strawberries. Do your best not to miss this yumminess during strawberry season! You can make a dressing to go with but I often use Little Creek Dressing's strawberry version since I can easily pick it up at the store when I take my deliveries.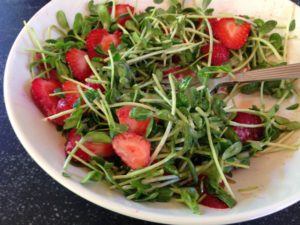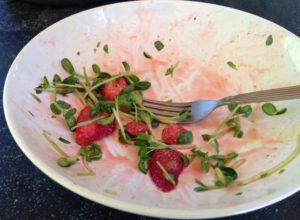 In case you didn't know, pea shoot pesto is delicious! To make, I pulse in my blender:
About 3-4 cups pea shoots, 1/3 cup nut or seed (walnuts, pinenuts, pistachio or sunflower seeds), 3 cloves of garlic, 1/3- 1/2 cup olive oil (to desired consistency), some parmesan (but you can leave it out or substitute if you don't eat cheese), some lemon or lime juice along with some zest, salt, pepper. Combine with potatoes or toss into pasta, Yum!