Microgreens are an incredibly easy and fun way to eat all your veggies.
They develop quickly, within 2 weeks after germination from the nutrients stored in the seed. It's because of this that their nutrient density is more concentrated than an equal serving of the mature version of the plant. Depending on the variety and the nutrient, it can be anywhere from 4 to 40x more! This is why they're considered a superfood.
Here in my garden on Mayne Island, I grow many different varieties of microgreens but I always make sure to have a steady year-round weekly supply of broccoli, red cabbage and kale, 2 kinds of radish, pea shoots and sunflower shoots.
Over the years, folks have asked me for nutritional info but I'm not an expert or a physician so I've kinda shied away from making claims about the health benefits of these amazing tiny greens. But oh well, I've been asked so many times, so here are a few things that I know about the weekly varieties I grow. This by far, is not the whole story, so if you'd like to look into it further, an internet search will get you lots more in depth info from some of the recent studies.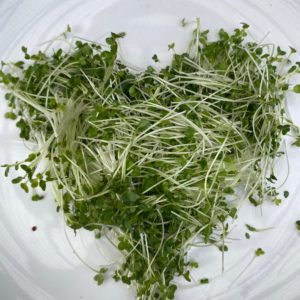 Broccoli microgreens have been found to have at least 4x more sulforaphane than the same amount of the mature broccoli florets. This is the phytochemical that has been found to help protect us from many serious ailments. Put a half cup of broccoli micros in a morning smoothie and get the benefits of 2 cups of broccoli florets worth of sulforaphane as part of your daily nutritional intake. It's hard to believe that these teeny tiny greens are this potent but it was proven at the University of Maryland in 2012. That was possibly the first in depth study done on microgreen nutritional content and I read somewhere that the research team couldn't believe their over-the-top findings, so they did it all over again a few times with the same results. Broccoli micros are also high in vitamins A and C, calcium, iron and phosphorus.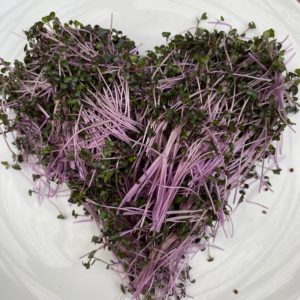 Red cabbage microgreens are another exceptionally nutritious variety containing over 40x the vitamin E content of it's mature counterpart. It's also very high in vitamin C and beta carotene (vitamin A). And high in anthocyanins too. Similar to broccoli micros, they also contain more polyphenols and glucosinolates than mature red cabbage. Both are phytonutrients thought to have antioxidant, cholesterol-lowering, and anti-inflammatory properties.
The kale micros I grow have a slightly pink stem and are similar to both broccoli and red cabbage in their nutrient profile minus the anthocyanins. These three are, in my mind, the miracle brassica trio!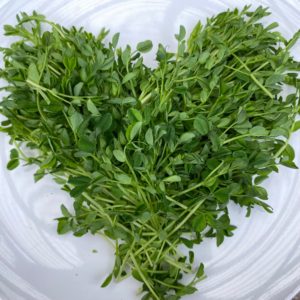 Pea shoots were the very first microgreen I ever grew, way back when and the first thing that comes to mind when I think of how good they are for us is their vitamin C content. One cup of pea shoots contains 50% of the recommended daily amount. Some days, I can easily devour more than this in a simple salad for lunch!  That same cup of pea shoots contains high levels of the B complex vitamins (around 40% of the daily recommended amounts of B9 or folate and around 20% of the others) which is equally amazing! And that cup also delivers 10% of the %DV of iron. They're also an excellent source of fibre and are one of the best veggie sources of protein.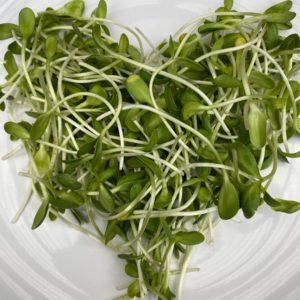 Sunflower shoots are unique in the microgreen family because they're higher in calories due to high amounts of the good-for-you monounsaturated and polyunsaturated fats. High amounts of fibre and a very good source of plant protein too. While they have beneficial amounts of most of the same vitamins and minerals that many other microgreens contain, they're also unique for their essential amino acids content. Sunflower shoots are the most popular snacking shoot. What a healthy snack!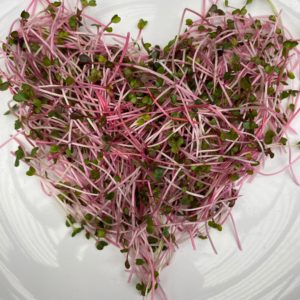 I grow 2 varieties of radish micros. Pink stem radish has a green leaf with stem colours ranging from light pink to a rosy red and purple daikon radish micros, a rich burgundy colour. Another brassica family superstar, they're similar in nutritional content accept that the purple daikons also contain high levels of anthocyanins. They both deliver vitamin A, C and E and B complex. Some of the minerals I remember are magnesium, phosphorous, calcium, zinc, potassium, selenium. And they taste just like radish!
I hope this info, tho' incomplete, can answer some questions and serve as a starting point for you if you want to take a deeper dive into the details with more accuracy. And remember to eat your veggies!!