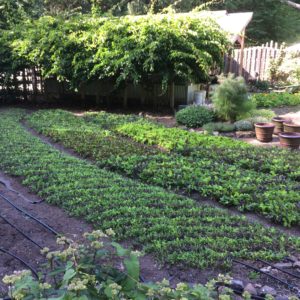 It has been a long time since I've made a blog post. Quite a few folks have been asking me "what's up!?" so I thought I'd write a post.  Here's some info and some of my thoughts, a little window into the world of this market garden at the beginning of 2020.
Those of you who know me (or at least know of the shoots and microgreens I've been producing year-round for about 10 years) probably know that I slowed production down in April 2019. I needed to get off the weekly treadmill and create some time to assess things. I especially pushed pause on wholesaling the shoots to off-island grocery stores in Victoria that I'd been supplying for about 7 years. It meant I didn't have to do weekly deliveries and I could take a break from hiring folks and managing help with producing hundreds of containers every week. It was such a lot for one person (me) to be in charge of and taking a breather was quite a relief.
I absolutely love what I do. It's a lot of never-ending work but I love it anyway. I have learned so much from doing this market-garden venture, it's amazing. And there's still so much to learn. Producing homegrown quality food for myself and my community and doing my little part to encourage food availability and sustainability here is definitely my thing. Making it into a business and creating a job for myself so I can earn a living also lights me up. That I can do it on this land we get to look after and call home makes it even more amazing.
But I do not love driving all over Victoria every week doing deliveries. I also don't like managing a team when we're all under pressure to keep moving fast and when we all need to push hard to stay on a tight timeline and a strict schedule. It's especially tough going when there's still teaching and learning to do. I also don't like that I  couldn't pay myself a reliable, proper living wage for all the work I do. It doesn't make sense and it was getting super-unpleasant. Thankfully, I scaled back and put a stop to all of that this spring and it became a joy once again as I produced on my own, just for Mayne Island. I supplied Farm Gate Store, a restaurant, a cafe, the Hardscrabble CSA and I got to do some Saturday markets too. I also supplied a small amount for a store on the mainland who's owners live on Mayne Island and who took the shoots back with them every week. It was easy, it was fun and I was even able to pay myself properly!
This year, I'll be supplying 2 off-island stores with shoots and microgreens and hope to establish a more flexible delivery schedule with them. They are stores that are genuinely supportive and truly interested in locally grown (which, I've learned, is very important to my little operation and unfortunately, not so common). I'll continue producing tons of shoots, microgreens and baby salad greens for Mayne Island. There are a lot of re-organizing and maintenance jobs for me to do in the garden this year. I also have some new product ideas I'll be working on and I'm especially keen to stop packaging in plastic. I'll also be easing into getting back to growing a selection of other veggies and flowers for the community during the warmer growing season. We really need more Mayne Island grown food! We need more experienced growers to help do it and I'll work on addressing that in the garden this year too.
I love to share what I do and how I do it. I now have a strong understanding of just how many people on our island have agricultural experience and can help us create food security here. There aren't many. But I've talked to a lot of folks who have a strong interest and want to learn how to build a home garden and grow their own food. I'm also looking for a way to get help with the my market-garden work, but there are so few experienced farmers and gardeners on the island who can do the job.
So in 2020, I'm creating a market garden volunteer opportunity for 10 people on Mayne Island who'd like to sign up to learn to "do by doing" in Christina's Garden while helping to produce food for the community. I'm hoping I can help to expand the talent pool and maybe I'll build an experienced group of food growers for the future! We'll be producing a variety of veggies and flowers for the Saturday Market, my roadside stand, the Hardscrabble CSA, Farm Gate Store and a couple of other wholesale accounts.
I'll be posting more specific and detailed info and ideas about this opportunity soon, so stay tuned! And if this sounds like something you'd like to do, or even if you're interested in working on developing food security on Mayne Island in other ways, please don't hesitate to contact me, let's talk! I'll be starting orientation/garden walkabouts in March.
I want to continue collaborating with the folks I have been working with already and I'd really like to begin collaborating with a few others too. I'd also like to share with the eaters where their food is coming from when they buy from me. I'd like to continue building a vital and successful Mayne Island business too. Let's move forward together to support the production of nutritious and delicious Mayne Island grown food!
That's it in a nutshell. 2020 here we go!