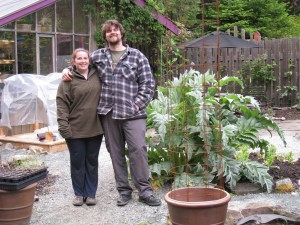 In May we hosted the first wwoofers to ever stay and work at Christina's Garden. A milestone!….and the best first-time wwoofers ever.
WWOOF: World Wide Opportunities on Organic Farms
or sometimes people call it "Willing Workers On Organic Farms"….and there are a few other versions too…..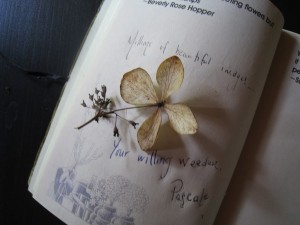 Pascale from Montreal, (another of this summer's best wwoofers ever) signed the garden visitor book "Willing Weeder" (on organic farms) tee hee, cute!! We couldn't believe we hadn't thought of that one before….have I ever mentioned what an important job weeding is in my garden?….and isn't that sweet how she left that little found dried bit of flower with her message? So touching.
Anyway, the wwoof website is a place where travelers who are interested in learning about rural and organic lifestyles can link up with people who live that lifestyle and need help on the homestead. Both host and volunteer traveller have a listing on the website. The host provides food and a place to stay in exchange for a few hours of help each day from the "wwoofer" with all the daily work. I think it's a remarkable organization.
Our first wwoofers ever, Jess and John are from the north-east of England (Sunderland and Durham) and were here for 2 1/2 weeks.
They were a huge help. I think I really like this wwoofer thing! I was thankful to know that they were happy and comfortable here.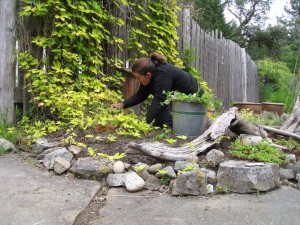 Jess took on the responsibility of chief weeder and she got very good at it! It really is such an important and never-ending job here in this garden (and in every garden that grows without synthetic chemical herbicides) so there was always lots for her to do!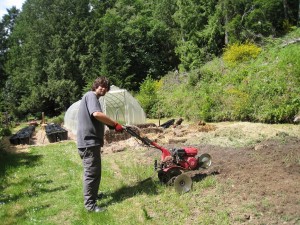 John told me that he enjoyed doing things that involved destruction of some sort. Unfortunately, I had trouble thinking up many jobs of that nature but luckily he also enjoyed the machinery! Here he's helping develop some new beds and keeping them weed-free so the click beetle doesn't decide to lay eggs in the weeds and on the soil….the dreaded wireworm would result in the soil for a few years after and we don't want that!!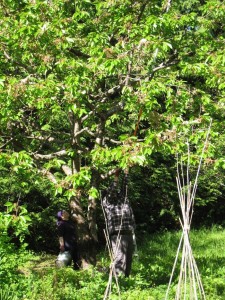 They were here during the caterpillar plague of 2012 so were a huge help with caterpillar control. Here they are under the cherry tree. John is wielding the long Fiskar loppers as Jess helps manage the operation. Sometimes it's hard to see which branch the tent is attached to and another set of eyes is a necessary thing. This was such a big help to me because it's an extremely time consuming chore.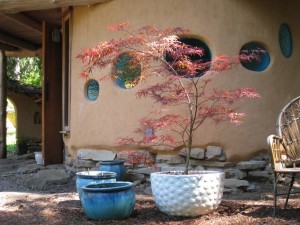 They stayed in the little garden house hand-made of cob and wood.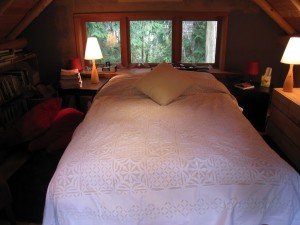 They slept upstairs in the very cozy sleeping loft. It has lots of gardening and food related books on the book shelves. John read "The Omnivores Dilemma" while they were here and Jess did a lot of writing. There's also a little desk and a lovely view of the forest below on one side and the garden below on the deck and private entrance side.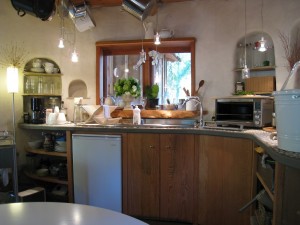 They made their meals in the downstairs kitchen. It has a little oven, 2 stovetop burners, a little fridge, a table and chairs and lots of other stuff.
There's an outdoor shower next to the garden house and an outhouse with a compost toilet down a short path. The living experience for helpers here in the garden is a little bit like
glamping
and pretty much just like how Chris and I live. (I think I might need to go woofing and glamping around the world : )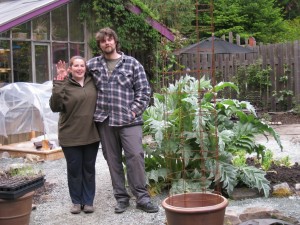 Bye-bye wwoofers!! Happy travels! (We were their first stop and they had 5 more months of exploring the west coast of our beautiful country.) May the west coast of Canada and our people be good to you!