Work on the new garden gate was completed this week and I love it!
My island neighbour, Mike Nadeau did a beautiful job, don't you think? It's such a joy to arrive at the garden every day for work and get to look at this first thing..I don't think I'll ever get tired of it!
On a blustery day, Mike headed on down to Bennett Bay hoping to find a nice cedar log and he did! He had to wade into the cold water to pull it out so he could finally get it into his trailer and get it back to his place where he began splitting it into lovely pieces that he could use for the gate.
I sure do like how the hand split pieces are all wavy and knotted as they follow along the grain of the wood. No working against the grain here! Beautiful cedar.
Mike uses this tool to hand split the logs he gathers at the beach. It's called a froe and is quite an old-fashioned tool. He uses it with yew wood mallets (that he makes every couple years as they wear out from use) to split these lovely logs into stakes, shakes, planks and wavy bits that he uses to make lovely things. A froe sure is an important tool to help take advantage of some of this wood's awesome creative potential. A saw just would not do!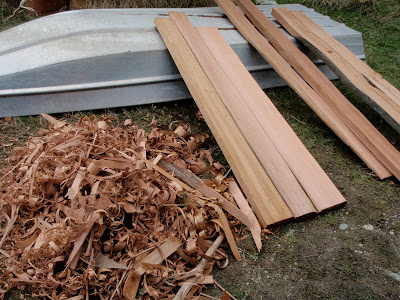 above photos from Mike Nadeau
These are the pieces for the gate frames. Mike has drawn a knife along all the edges to soften them up and make them look even more beautiful. Look at all those shavings!
After all that work was done, he delivered the pieces to the garden and got down to work again.
Starting to put it all together.
The big curvy pieces used to make the arch are from a cedar tree found in the forest. Our west coast forest seems to produce so many of these. They sure are nice for creative building projects! The tree was cut in half to create the symmetrical arch. As well as being an important visual element of the overall design, it acts as a strong brace to keep the gate frame together and make sure it doesn't shift and sag. Great design by Mike. He's sanding the round side here.
Adding the rising and setting sun. I've decided that in the morning, it's rising and in the evening it's setting and during the day, it just is.
Ooooo….it's really starting to take shape!
Those beautiful wavy knotted pieces sure do make some perfect sun rays!
Time to stand back and take a look. Now where does the next piece need to go so we're sure to keep those hungry deer outta' there?….it's really looking like the design drawing now!!
The one in pencil is the one we chose.
Beautifully done rustic details.
I love this latch. An ideal combo of elements: simple and straight forward design, easy to use, strong and pleasing to the eye.
Isn't it remarkable how some of the most beautiful things can be made entirely of found pieces? So it is with this gate. (except for the metal hinges and bolts) ….altho' sometimes, even the hardware can be reclaimed and used…..
These big honkin' staples were taken from a driftwood log (and they're very strong!) and the rebar was found at the recycling depot. This handmade cane bolt for the back gate made of reused pieces is just perfect for someone like me. (I love rusty metal!)
A store bought version.
This is the gate that was there before…done as a temporary gate a couple years ago when we expanded the fence line. Expanding the fence line around the deer-proof protected garden area meant we needed to include a drive-thru area with a gate in the front and one in the back so a big truck or an excavator could get through if it needed to, and that meant we needed 2 big wide gates.
We used the old gate frame from the front and moved it to the back through-way near the pond. Mike improved upon it by taking out the remesh panels and replacing them with some of those beautiful split cedar pieces. (now I can use the old remesh panels as a cucumber trellis) This gate isn't seen or used much, so we kept it really simple and I love how it blends in with the forest scenery back there.
A happy artisan and his dog. A beautiful creation and a job successfully done!
This photo reminds me again of how the process is as important as the finished product and perhaps even determines how successful the finished product is. At least that's how it is in my little world.
If you live on Mayne Island and are thinking you'd like a new gate, large or small or another decorative and practical element in your yard and garden, like maybe a trellis?…a decorative fence area?….a chicken coop?….an awesome doghouse?….the ideas are endless…..and if you like this gate, I think you need to know about Mike!
He loves doing this kind of work, he's really earnest about doing a good job and I think he'd probably be happy to consider helping you with your project.