The other day when I was doing some winter cleaning of our kitchen cupboards, I found a jar of spearmint sugar I got at a farmer's market a while ago. That stuff was so good!!
Discovering it again made me think to check up on the makers,
All Star Organics
and I found this
inspiring-to-me video
of one of the owner-operators and farmer speaking about what they do on their small farm and what she believes it takes to have a culture that can sustain itself. And the importance of locally grown food and organic farming….."Human scale." I feel especially buoyed by what she says in the last half of the video.
It's nice to hear someone who knows from experience, talk about the simple yet sometimes overwhelming challenges involved in growing good food for the community. Do you have the "resilience of mind to be out alone in the field all day", "alone with your thoughts" day after day, year after year doing the same darned thing over and over and over…."can you do repetitive actions joyously?"….(at least some of the time?)
It's so easy to get all dreamy and misty-eyed about being outdoors growing lovely things….(ok, it's fun and healthy to dream and growing things sure is a nice thing to do)…but if you're an aspiring food grower for the local market, and you're working to be able to sustain your operation for the long term, it's also important to understand and remember the not-so-dreamy reality of the challenges involved (it makes facing them positively with a sense of possibility, optimism, enthusiasm, determination much easier, I believe)…..which then makes it much more likely to experience the awesome rewards that come when we choose the challenge and don't turn away.
The answers to making the change we'd like to see happen in the world are modest and small….this lady has got some good things to say!!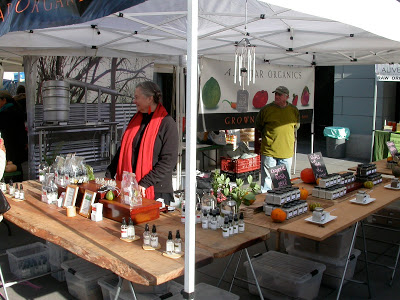 Here's a photo of the All Star Organics booth that I snapped (I asked first!) at the Ferry Plaza Farmer's Market in San Francisco a few years ago when I got that yummy spearmint sugar.
This presentation totally inspires me. I have some things to learn from this display to help me with my own farmer's market display. The simple, rustic milled boards still with their waney edge. The stylish black and white labels on jars and bottles, all the same size, stacked and grouped neatly, no bows, no ribbons…..no muss, no fuss….simply beautiful!
It always interests me to notice how a display (and packaging) done thoughtfully and carefully with attention to detail communicates respect and kindness to the market-goers and customers and to ourselves, (the growers and makers) too.
I like to think it will help make our experience of the world at least a wee bit more pleasant.
And check out that gorgeous still in the background there! Whoa! There's another photo of it here ….I also brought home a hydrosol from that trip: douglas fir It was glorious.
Since I know of some aspiring small farm operators who follow along here, I thought I'd share this good article that features Janet Brown of All Star Organics, her experiences and ideas on starting and successfully operating a small specialty farm. If you're working on doing so, you might like this read. I really relate to the ideas at the end of the article.