Mid-January is here and things are getting organized for another busy year in the garden. And I'm really looking forward to it!
The Christmas season was a bit frantic with so many orders of winter bouquets and plants and wreaths. Mayne Islanders were decorating their homes with Christmas bouquets and giving them away as gifts too…so much fun!….and also very overwhelming for me. I get deep-down anxious when I can't keep up with my orders. But I did it, working past dark right up to Christmas Eve! I'll have to be much more organized for next year.
These arrangements in vases are all packed in their boxes and waiting to be loaded up into the truck for delivery.
Beautiful orchids were a new addition to the winter bouquets this year. I just love them!
Many more winter white bouquets this year too. White tulips, white mums, white waxflower, and green carnations (love those green carnations!!) with cedar, fir, salal and twigs.
This year I potted up paperwhites with twigs and moss. They sold quickly.
Also potted up red, white and pink amaryllis this year..always a hit at Christmas time and a favourite gift to give too. Here they are displayed at a little Farmer's Market sale in December at the Ag Hall.
Creative chaos! I was so lucky that the temps didn't go down below zero before Christmas. It made it a lot easier to get to just leave all the plant material out there.
But after dark, arranging happened inside in the garden kitchen…..my fingers got just a little too cold outside!
Stems of orchids making the dark winter night time in the garden come alive!
More wreaths this year and this time, I got to use Mayne Island grown grapevine for the forms too.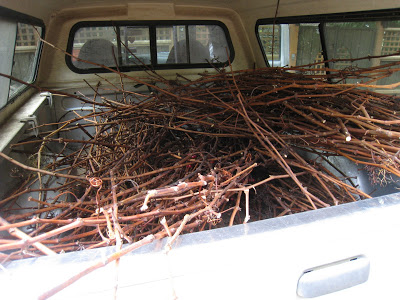 I brought a couple truck loads home in November, collected at Deacon Vale Farm. Grapevine is amazing, so bendable yet strong.
I also really like them just plain and simple, with no decoration….I sold quite a few of these to do-it-yourselfers who wanted to have the fun of decorating them.
…yet another truck load of flower arrangements and amaryllis plants.
It's so rewarding to see people enjoying what I do. Thank you to everyone on Mayne Island who ordered florals from me at Christmas time….and also to everyone who chose my products throughout the year! This little island-garden-micro-business wouldn't be any fun without you and simply wouldn't work at all if y'all didn't choose to buy the things I grow and make. Thank you for a great 2011!! I really appreciate it : )