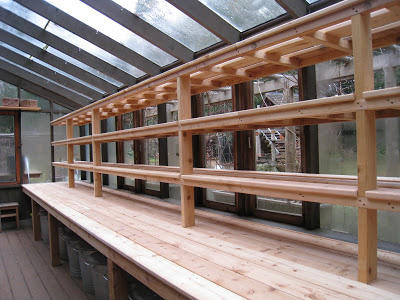 This is the new shelving that we've just put into the glass greenhouse where I grow all the shoots, microgreens and late winter/early spring transplants. Our friend and thoughtful carpenter/builder Tony just finished this job for me last week.
I'm so thrilled to have four levels of sturdy growing space now!
Still to do: grow lighting installed under the bottom row of shelving where I'll grow some of the transplants I start for the outdoor garden and for market sales.
A few folks have asked if I've decided to stop winter shoot growing because they haven't seen them on the shelves at Happy Tides and Farm Gate since Christmas time. No!! is the answer, (I love growing them in winter) ….just needed to do this work in the greenhouse and it meant that I couldn't grow for a short time while we reorganized the space. January seemed like the best time for that.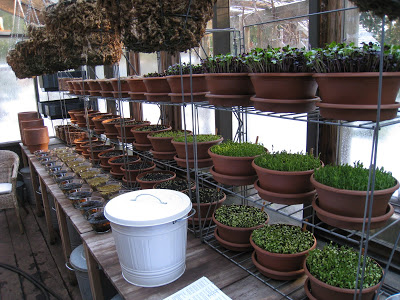 This is what it looked like before the new setup.
By the way, I took the above photo on the day of the
winter shoot growing workshop
that I mentioned way back in October. It's the only photo I have of that day. Seems that once everyone arrived, I was so busy talking that I forgot to snap some more shots. Ten of us squeezed into the greenhouse to talk about growing pea shoots, sunflower shoots and purple radish shoots. This photo shows the containers I planted for a couple weeks before workshop day (one a day of each) to show the succession of growth in an unheated greenhouse during the cool season.
Radish on top shelf, pea shoots on second shelf and sun shoots on bottom. On the table in front, the pea and sun seeds are soaking in bowls. Everyone chose one and planted a container to take home.
There wasn't room for everyone who wanted to join in because the greenhouse just isn't big enough and it was too cold outside to gather out there…so I'll probably have another one of these workshops this spring sometime and if it's warm enough for us to be outside, more people can come.
So back to the new shelving project: While I liked the old metal wire shelving, it didn't fill the whole length of the greenhouse wall, it was wobbly, saggy, not strong enough and not the right width for the trays.
So it was time to get the space working more efficiently since I'm beginning to need more of it.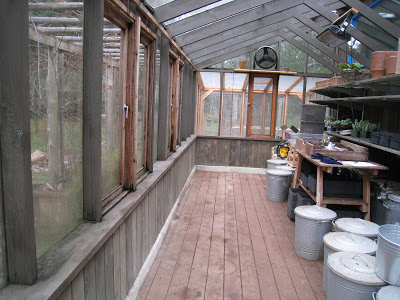 We took out the old tables and shelving and piled everything up on the other side of the room so Tony could get to work. A good time to wash all the indoor glass too!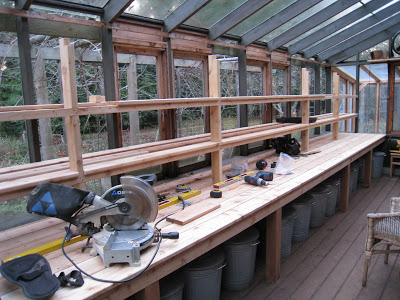 Building in progress……there is now space for 325 grow trays and a possibility of 400+ with another couple minor shelving/table additions in the future. Exciting! That'll keep me busy…and a couple other people too!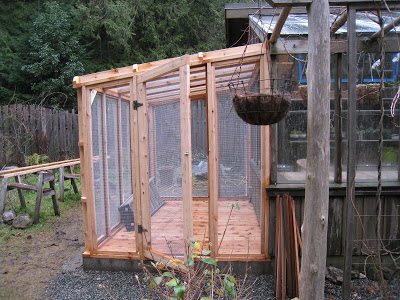 More greenhouse improvement: In December Tony built this addition onto the back of the greenhouse.
For the last couple years, I've had a lot of troubles trying to grow pea and sun shoots effectively in the warmer summer months. The greenhouse gets too hot. Especially for the pea shoots. They overheat and rot and it's just not any fun. So, first time this happened, I moved them to a growing area I set up outside. Seemed like a reasonable and good idea. Except that sprouting pea seed is mouse and bird candy and it looked like they were coming from all corners of the island to congregate on my trays and have a feast. What a mess! Gross. And heart breaking too…all that work, what a waste!!
So after a couple years of persevering and fussing over the problem, this is my more determined effort to solve it. I will outsmart the varmints, once and for all, oh yes I will! A cooler pea shoot growing screenhouse (other shoots are happy to continue to grow inside) with a skookum foundation and 1/4 inch hardware cloth to keep out the birds and mice. I hope it works! fingers crossed. Thanks Tony for your great work!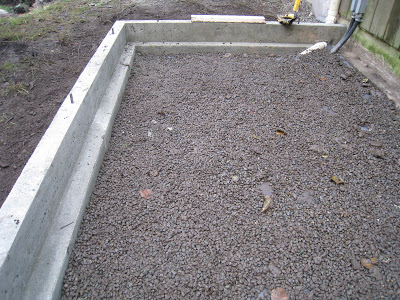 A serious concrete foundation to seal the ground from determined varmints.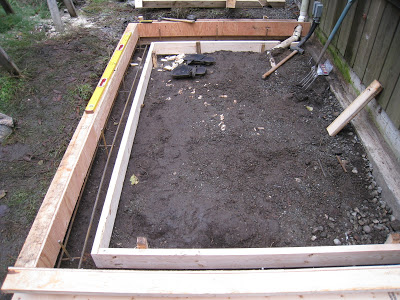 Taking no shortcuts!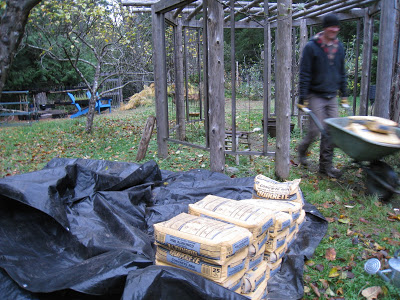 Tony with bags of concrete.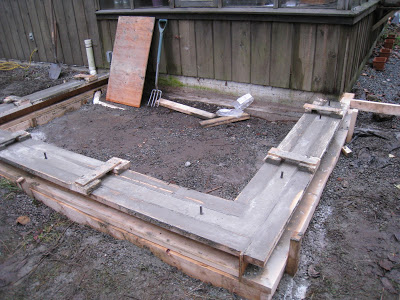 This was a significant investment for my small operation……a real commitment. But with more and more requests from off-island stores and restaurants for the shoots and microgreens I grow, it seems like a good idea. It's time to get ready to grow microgreens and shoots more efficiently and expand production!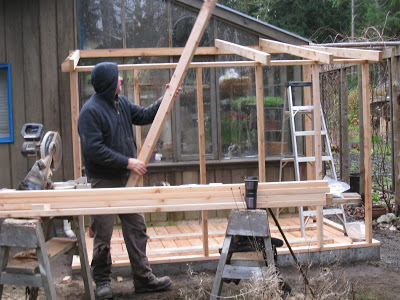 Getting the frame up.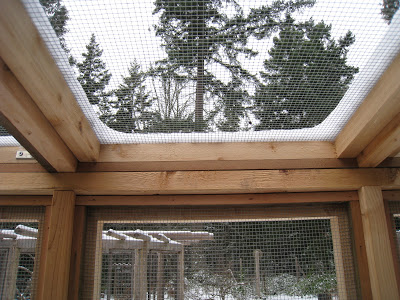 While regular window screen would be fine to use to keep the birds out, mice can chew right through it at alarming speed. Hoping this 1/4 inch welded and galvanized steel hardware cloth will do the trick! The roof can be covered with hoophouse plastic, if I need to keep rain out.
Still to do: shelving installed in the screenhouse just like inside the greenhouse. We'll paint and stain the new wood in the summer after the rains have stopped and things dry out.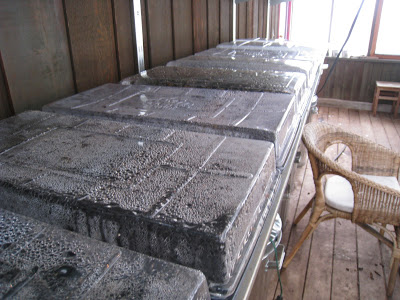 Here we go! The first trays of 2012 have been planted a couple days ago. Since it has been -7 degrees C at the garden overnight, I've sat them on heat mats and covered them up.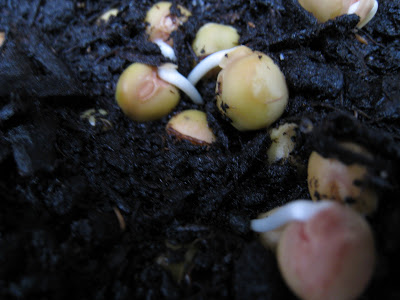 They're sprouting now and they'll be fine 'til it warms up a bit in a couple days. So look for pea shoots and sunflower shoots back on the shelves first week of February!