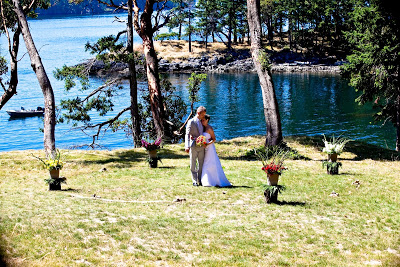 Most weddings on Mayne Island happen in the summertime when couples can take advantage of the beautiful natural landscape and warm sunshine to gather outdoors with their family and friends for happy times.
Michele-Lee and Clint were married at
Oceanwood
last July. The ceremony circle was on a grassy clearing looking south to the ocean. I created four flower arrangements that represented the four directions: North, South, East, West using four colours: red, purple, yellow and white. We placed another neutral green arrangement in the center of the circle where the bride and the groom stood with the officiant. Guests all stood around the four directions creating the circle while a special couple (parents and siblings) stood at each direction and read something they'd prepared for the event.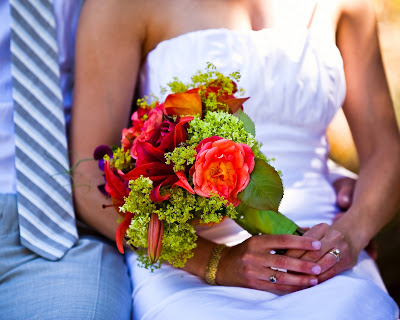 Michele-Lee's bouquet was mostly orange (her favourite colour) with chartreuse which worked well with all the other ceremony arrangement colours.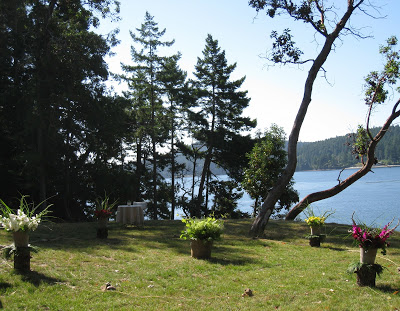 It was really pretty….what a beautiful day!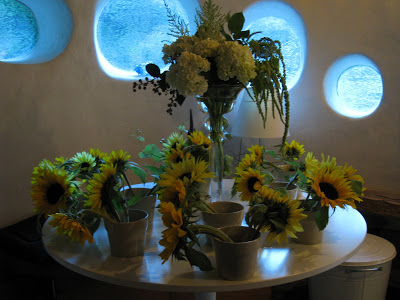 Behind the scenes: the table centerpieces in process. From the garden: sunflowers with grapevine, lady's mantle and feverfew for a sunny day at a casually stylish afternoon wedding reception. Loved it!
The tall arrangement adorned a table with the guest book at the entrance to Oceanwood. Salal with berries (a flora ode to Mayne Island), astilbe, hydrangea and green tassels amaranth.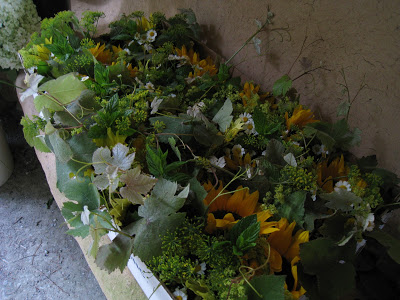 All boxed up and ready to be delivered.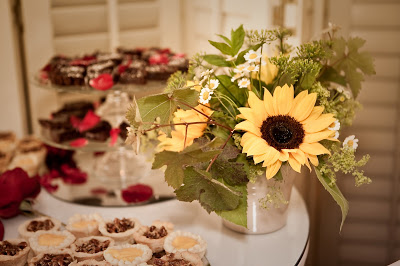 A table centerpiece decorating the dessert table at Oceanwood. Very Mayne Island natural.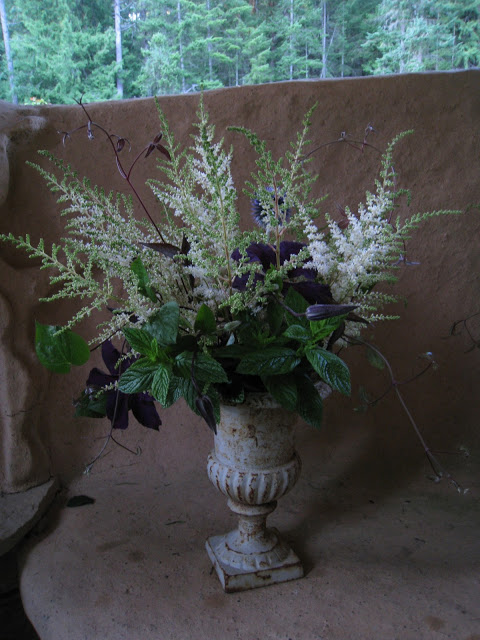 I really dig these iron urn arrangements. White astilbe flowers and spearmint with clematis vine, flowers and buds.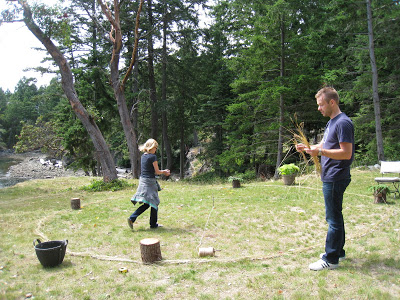 Michele-Lee, Clint and I got together the day before wedding day to map out where the four direction arrangements and ceremony circle would go. We measured and set the direction points. Then we wanted to create the outline of the circle to subtly and naturally lead all the guests to gather around it. We began by setting down pebbles to join the directions and create the outline. Clint had the idea to gather some dried grass that was lying around after being cut a few days before and he set it down along the outline of the circle. Brilliant! It looked great and felt beautifully natural. ….and I was thrilled to be having a bit of an Andy Goldsworthy moment too!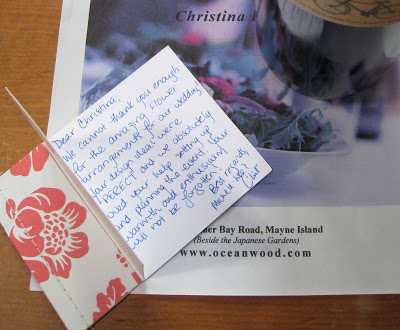 A couple days after the wedding M-L and C dropped in at the garden on their way to the ferry to say goodbye and thanks with a lovely card, a bottle of wine and a gift certificate for dinner at Oceanwood. Wow! So nice. They made me feel very special…..I'm so lucky to get to work on weddings here on Mayne Isl. Thanks M-L and C!!
photo #1, #2 and #5 by Valeskca Photography.
If you're considering a wedding on Mayne Island feel free to contact me with any questions you have. I'd love to help!
More photos of last summer's weddings to come.