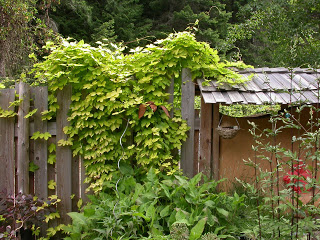 What would I ever do without my golden hops vine? I just love it.
First of all, it looks beautiful, fresh and bright climbing along the fence. Here's a photo I took a few years ago of my first ever Humulus lupulus 'Aureus'.
This photo made me think of the old rhyme about what you can expect when planting a perennial vine in the garden: "The first year they sleep, the second year they creep and the third year they leap." So I checked my dates and this photo was taken in June of this happy specimen's second year. So you can imagine how big it gets nowadays! In the spring, it can grow up to 6 inches a day!…to probably about 30 feet long, maybe more. It's amazing.
A quickly decorated wreath I made with some lichen and moss I gathered on my walk up to the garden one day. Seasonal wreaths and wreath forms are also available for purchase at the garden from time to time.