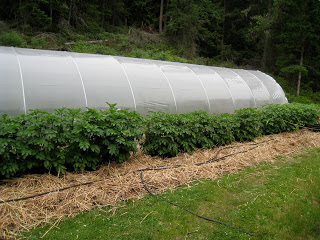 I love growing potatoes in pots. I've already posted once about this and here I go again. I first tried it a few years ago and for the last couple of years, I've experimented with many different ideas, constantly learning how to make it work better. I think potatoes are such a gratifying crop to grow. This week, I began harvesting the first containers of the season.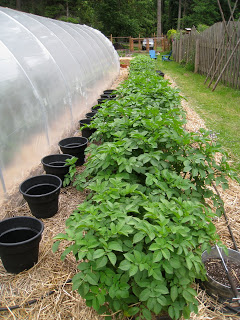 They were planted late February/early March and the pots were kept in my new hoophouse (first time I've done this!) By May the hoophouse was getting way too hot for the potatoes so they were brought outside….(part of the plan)….by this time, the green growth was well established and the pots had been filled up to the top with soil and grass clippings.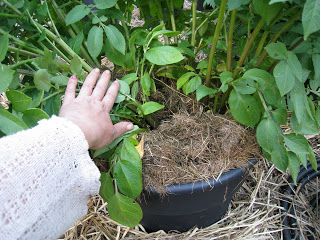 The straw mulch I put around the black pots mid-May is insulating them from the hot sun, keeping the soil in the pots cool and moist.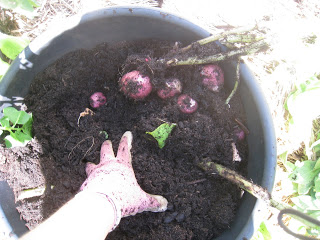 This year I'm trying a couple varieties I haven't grown before to see which ones produce the highest yield in the pots and this one, "Chieftain" has amazed me! So many lovely nuggets in one little container!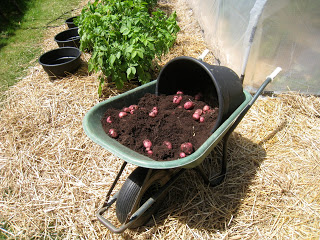 A lot of people have asked me how I grow spuds in pots like this so here's what I do: (see also November 2009 posting, "potatoes in containers" for a slightly different version of what I do….it's always changing!) I use SeaSoil potting mix. I start with 3 seed potatoes in about 4-6 inches of soil. As the plants grow up, I add more soil and do this 'til the pot is about half full….by this time, I'm cutting grass and I have grass clippings to fill the pot up to the top (another new thing this year that seems to be working very well) You could use soil all the way up to the top if you rather (which I've also done)…..keep the soil moist and cool (afternoon shade or straw mulch around the pots) and once the plants have flowered, there will be potatoes to harvest.
This year, I'm dumping the pot into a wheelbarrow to harvest and even tho' the general rule of thumb is to not re-use soil, I am reusing this soil because it's still beautiful potting soil. I mix a bit of complete organic fertilizer into it and use it to grow micro-greens and shoots in trays. It works fabulously. After the trays are harvested, I dump the soil into new growing beds that I'm building in my garden…you could just put it into your compost.
As these potato pots get harvested, they're replanted with more seed potatoes for another harvest in September.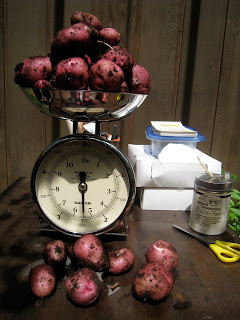 I wanted to find out what the yield of one pot was but I couldn't fit them all on my scale….over 5 lbs! more like 6 pounds. I think I'll have to grow Cheiftain in larger pots next year.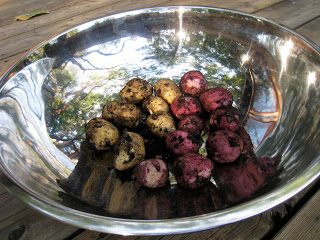 These potatoes will all go to the weekly basket customers and Happy Tides…..but we get some too! "Seiglinde" and "Chieftain" for our dinner. With baby dill and garlic scape pesto. The taste of early summer. Jewels.