One of my favourite things about growing some of my own food is that we get to eat things that aren't sold in the grocery stores or markets…delicacies like the tender and delicious kale flower buds that appear on my tuscan kale plants at this time of year. Here's today's harvest for tonight's dinner….yum!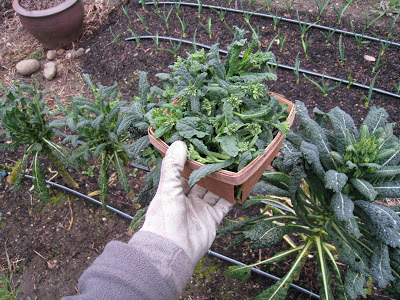 Black Tuscan Kale has become my favourite kale to grow (and eat) and here where I garden, kale seeds can be sown indoors now and the small plants can be planted out in April. It's a very decorative plant and I think it looks beautiful planted in a flower bed. It does really well in containers too. If you have space in a veggie garden, grow a row for tender leaves in the summer, sweet super-green leaves in the fall and winter and in the early spring, these delicious and beautiful flower bud sprigs! I think the leaves are so beautiful that I add them to floral arrangements too.
The seeds are sold at West Coast Seeds where it's called lacinato kale.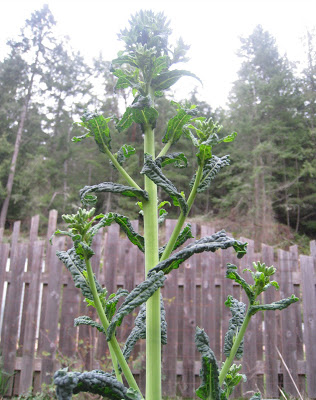 I must remember to leave a few of the flower buds to bloom so they'll produce some seed since this is an open-pollinated variety and I like to save some seeds every year….