I had such a lovely day working outside today. No wind, no rain, a little sun, thank goodness. When it came time to think about dinner, I decided to harvest a pot of potatoes that I planted for winter new potatoes and thought I'd share my year-round new potato growing idea here.
It all started last year when I experimented with planting some Yukon Gold potatoes in a garden bed on labour day weekend. In January the garden was covered with a foot of snow (we had an unusually cold winter on the coast last year) but I was surprised and happy to see that when I moved the snow away and dug through the soil I found a lovely crop of new potatoes ready to be harvested! What a fabulous treat.
That summer I had also experimented with growing potatoes in containers and it worked beautifully. Many of the city-dwelling visitors to the garden went away interested in trying this on their balconies! Below is a 1/2 wine barrel growing Russian Blue potatoes.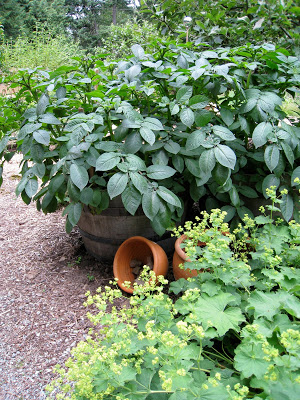 This year, I decided I'd try to grow Seiglinde potatoes in containers to help with the production for my weekly veggie harvest basket deliveries and also for our own food throughout the year. Below is a photo of the containers all lined up.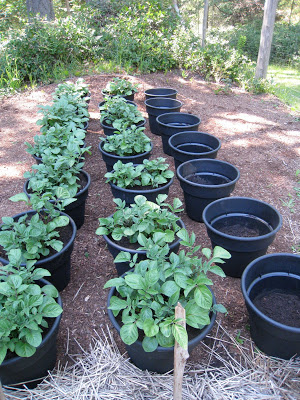 I begin by putting about 2 inches of soil in the bottom of the container. I then set 4 small seed potatoes (or pieces of potatoes that have sprouts on them if they're large to start with) around the edge and 1 in the middle. I cover them with another 2 inches of soil and wait for the seed potato sprouts to grow about 4-6 inches tall. I then add more soil to almost cover the new green growth and let them grow again and then add the last layer of soil to fill the container and give them the maximum room to grow. I plant up the containers at different times throughout the season so I have a constant supply. There are always containers at different stages of growth and this year each container got planted 3 times from late February to early September.
New idea for next year: instead of filling the containers up to the top with soil, I'm going to cover the new growth with grass clippings, old hay, straw.
Here's me harvesting my container of new potatoes for dinner….see how the potato growth has turned all brown and is decaying….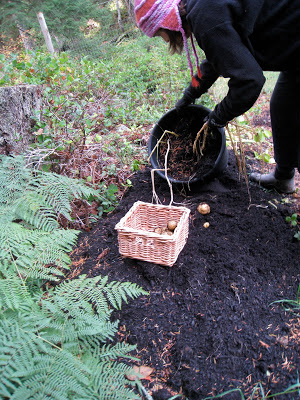 The potting soil has been used for all 3 plantings. I'm now dumping the container fulls from this last winter crop into an area where I want to create a new garden bed. It'll help create some nice soil there.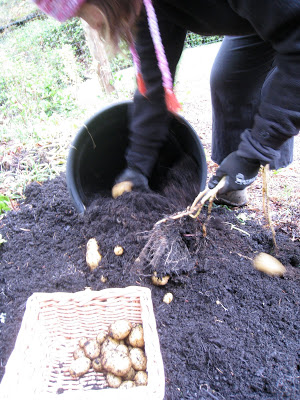 Just over 4 lbs of beautiful unblemished potatoes this time. One of these pots will produce anywhere between 4 to 6 lbs. depending on how big I let the potatoes get before I harvest them.